Beachwood Sleep Center is Northern Ohio's premier sleep dentistry clinic. Most people don't think to turn to dentistry when they snore or have sleep apnea, or have difficulty sleeping, but dental solutions can help relieve your sleep apnea and snoring as the dentist can actually treat the cause of the problems, not just the sleep apnea symptoms.. 
Sleep apnea and snoring both disrupt your sleep, but in different ways. Snoring occurs when air vibrates the soft tissues of your throat, making a sound. Sometimes snoring can wake you up and prevent you from sleeping as deeply as you otherwise would. Excessive snoring can be a sign of sleep apnea. 
Sleep apnea is a condition where you repeatedly stop breathing throughout the night. You wake up each time you stop breathing, though you may not wake up all the way. Sleep apnea can severely impact the quality of your sleep, resulting in chronic fatigue during the day. 
What Is Obstructive Sleep Apnea?
There are three main types of sleep apnea. 
Obstructive sleep apnea. Obstructive sleep apnea is sleep apnea caused by obstructions of your airway and breathing. The muscles in your throat relax too much, physically restricting your breathing. 
Central sleep apnea. In contrast to obstructive sleep apnea, central sleep apnea doesn't involve physical restrictions to your airway. Instead, central sleep apnea occurs when your brain doesn't send the right signals to your lungs. 
Complex sleep apnea. Complex sleep apnea is a combination of both obstructive sleep apnea and central sleep apnea. You may have some obstruction in your airway, but your brain also struggles to tell your lungs to breathe correctly.
Each type of sleep apnea has different treatments. Treatment at a dental clinic is most effective for obstructive sleep apnea since a dentist can adjust your teeth, jaw, throat tissues, and sleeping position to prevent your throat muscles from blocking your airflow. 
How Do Sleep Apnea Devices Help To Stop Snoring and Treat Sleep Apnea?
Many options help ease your snoring and sleep apnea, including orthodontics. You can also use oral appliances to treat sleep apnea and snoring. 
Snoring and Sleep Apnea Causes
For sleep apnea devices like mouth guards to treat snoring and sleep apnea, it's essential to know what causes snoring and sleep apnea in the first place. 
Snoring has many causes, including
Allergies.
Colds.
Smoking.
Alcohol consumption.
Sometimes, however, snoring is caused by the anatomy of your mouth and throat. In this case, the position of your jaw and throat muscles catch the air as you breathe and vibrate, creating that snoring sound. 
Obstructive sleep apnea is similar—it can be influenced by:
Weight.
Age.
Allergies.
Smoking,
Nasal congestion,
It is caused by the position of your teeth, shape and position of your throat, jaw, and mouth. 
When snoring and sleep apnea is caused by teeth, mouth, jaw, or throat position, it can be treated with oral appliances like mouth guards. By gently shifting the alignment of your jaw or supporting your tongue, these sleep apnea devices can eliminate your snoring and sleep apnea and help you sleep soundly again. 
Types of Sleep Apnea Devices
CPAP Breathing Machines
A common treatment for sleep apnea is a CPAP or BiPAP machine. These machines deliver a stream of air through your nose and sometimes mouth. The pressurized air supports your airway, preventing your throat muscles from relaxing and blocking your airway. There are a few different styles of masks, but most CPAP or BiPAP machines cover your nostrils to pump oxygen into your airway. 
Mouth Guards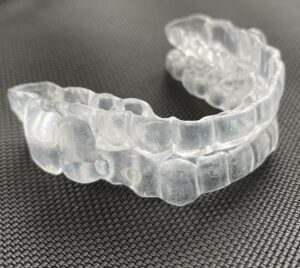 Mouth guards are also commonly used to treat snoring and sleep apnea. A sleep apnea mouthpiece gently pulls your lower jaw forward slightly, shifting how your teeth and throat are positioned. This small change can prevent your throat muscles from relaxing and restricting your airway. A sleep apnea mouth guard works best for people whose sleep apnea is caused by how their jaw or throat is positioned. 
Tongue Support
Another sleep apnea device is similar to a mouth guard but is designed to support your tongue. These devices look like plastic tubes closed at one end and open at the other. You insert your tongue into it, and it prevents your tongue from falling backward and blocking your airflow. This can reduce the risk of choking, asphyxiation, and poor sleep quality in sleep apnea patients.
Get the Sleep You Need With a Sleep Apnea Mouth Guard
Sleep is essential to your everyday life. At Beachwood Sleep Center, dentistry is more than cavities and cleanings. That's why Jay Goldstein, DDS, decided to focus on sleep dentistry in 2017. 
Conditions that affect your sleep are unpleasant and disruptive to your life. They make you tired and irritable, and they can impair your thinking. Lack of sleep can also increase your risk of other health problems, including 
Stroke.
Diabetes.
Heart failure.
Heart disease.
Heart attack.
Depression.
Contact Beachwood Sleep Center Today To Get a FREE Virtual Snoring and Sleep Apnea Consultation. 
Don't let snoring or sleep apnea interrupt your sleep and negatively effect your health—invest in yourself and your sleep today and get treatment for your snoring and sleep apnea.